2018-10-14 Labii Introduces Cutting Edge ELN Feature For The Visualization Of Gene Sequences
Added to the many unique
Labii ELN & LIMS
features, recent innovation sees the data management software capable of gene sequence visualization.
This development allows
Labii
users to plot publication quality circular and linear sequence maps of the plasmid. They would be able to do this a lot more conveniently using data directly from their
Electronic Lab Notebook (ELN)
without an external application.
Plasmid refers to an extra-chromosomal element, typically a small circular DNA strand with self-replicating properties found in the cytoplasm of some bacterial cells. Plasmids are used widely in laboratory gene manipulation serving as vectors for new genes introduced into bacteria. They facilitate the recognition of foreign "recombinant" DNA by the protein-making mechanism of a cell.
Plasmid maps are graphical representations of plasmids, showing the locations of main identifiable landmarks on DNA such as restriction enzyme sites, plasmid name, length, genes of interest, etc.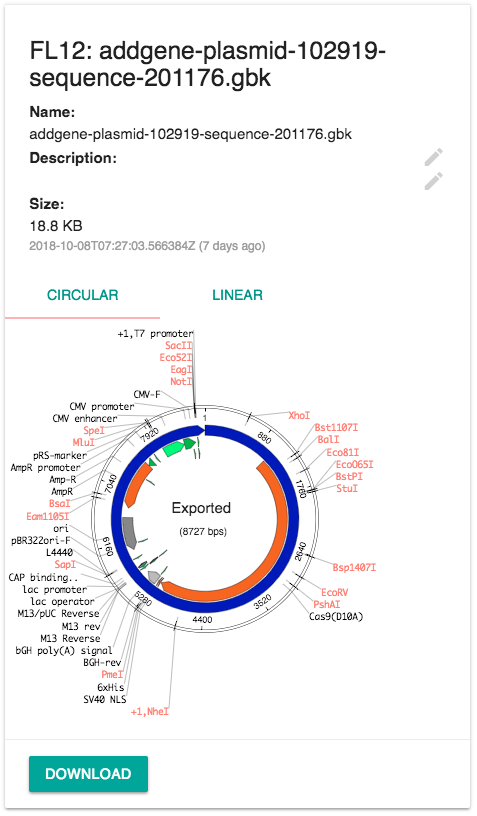 Genbank File Preview For a Plasmid Map (Circular)
Data for plasmid mapping appears to be complex puzzle pieces which conventionally needed to be fitted together through somewhat tedious trial and error processes. Getting considerable automated assistance from
Labii
's futuristic and collaborative platform is a major turning point in sequence visualization.
Plasmid maps are used to plan cloning strategy and to verify when a DNA clone has been successfully constructed. These massively important graphics have so many related applications for scientists and this addition makes
Labii
an even more complete molecular Biology package.
There are many extra benefits of this integration in comparison with other isolated sequence visualization programs.
One major advantage of using
Labii
is the facility of uniform visualization which happens through custom annotation libraries. Teams can share their sequences and tools for everyone to be on the same page from the very beginning of experiments. Beyond that, the scientists across teams and bigger organizations get the opportunity to visualize sequences exactly in the same way.
The unique flexibility of
Labii
extends even more with its new sequence visualization feature. Proper standardization is a key requirement in research and
Labii
duly recognizes this with top-notch multi-sequence alignment tools. Prestored tools and powerful import features from high-standard external databases allow scientists to standardize visualization all through their organizations, in spite of the particular needs of individual teams.
Multiple sequence comparison is an extremely rare facility for your
Electronic Laboratory Notebook
and uncountable professionals in this domain will jump to this without a second thought.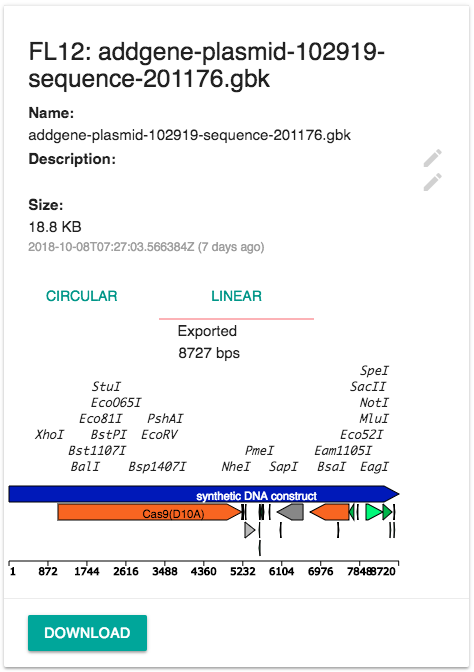 Genbank File Preview For a Plasmid Map (Linear)
​
Labii
is dedicated to continuous innovation and improvement. So, with this release, you can expect much more very soon. We are working on adding the widget that will allow the editing of the plasmid sequences, enabling scientists to design the sequence directly in
Labii ELN & LIMS
. To learn more, schedule a meeting with
Labii
representatives (
https://call.skd.labii.com
) or create an account (
https://www.labii.com/signup/
) to try it out yourself.